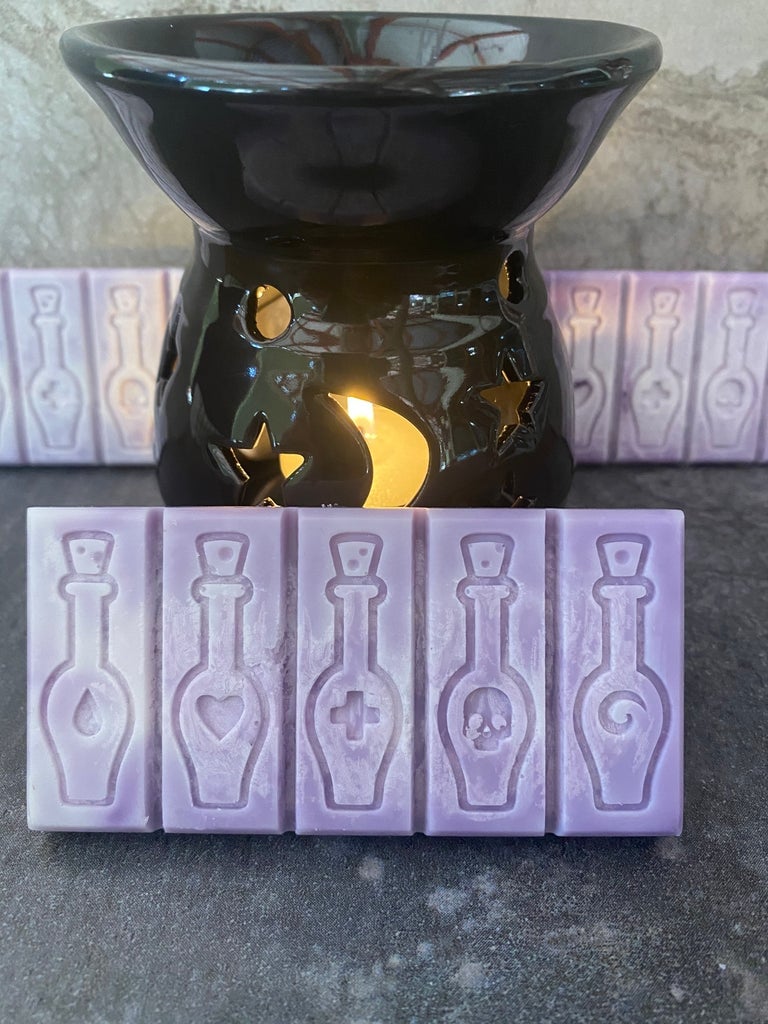 How cute are these very unique potion bottle melts. Made from all natural soy wax and hand poured in the Perth Hills. These come packaged in home compostable packaging 🍃
We have chosen the highest quality, skin safe, phthalate free fragrance oils to uplift, ground and relax.
Wanting completely natural fragrances made from essential oils and natural raw ingredients? We have those too!
*Citrus Sage and Chamomile*
Top Notes: Orange and Bergamot
Middle Notes: Sage, Osmanthus, Chamomile
Base Notes: Patchouli, Olibanum and Vanilla
*Clove Orange & Cedarleaf*
Top Notes: Fir Needle, Orange Peel
Middle Notes: Strawberry, Hyacinth
Base Notes: Patchouli, Musk, Vanilla
*Hemp & Eucalyptus*
Top Notes: Pink Grapefruit, Lemon Peel
Middle Notes: Eucalyptus Leaf, Moroccan Mint
Base Notes: Hemp Leaf, Sheer Pine
*Lavender and Ylang Ylang*
Top Notes: Orange, Grapefruit
Middle Notes: Lavender, Ylang Ylang
Base Notes: Tonka Bean, Cinnamon
*Lemongrass & Sage*
Top Notes: Lemon, White Ginger, Bergamot
Middle Notes: Lemongrass, Cyclamen, Sage, Thyme
Base Notes: Musk, White Cedar, Vetiver, Tonka
*Lime, Basil and Mandarin*
Top Notes: Lime, Mandarin Orange, Bergamot
Middle Notes: Basil, Caraway, Lilac, Iris
Base Notes: Patchouli, Vetiver
*Oak Amber & Musk*
Top Notes: Orange Zest, Bergamot, Eucalyptus
Mid Notes: Raspberry, Saffron, Neroli, Clove Bud
Base Notes: Sandalwood, Cedar, Patchouli, Vanilla
*Rosemary & Mint*
Top Notes: Spearmint
Middle Notes: Rosemary, Rosewood
Base Notes: Cedar Wood, Amber
*Sea Salt & Sage*
Top Notes: Lime, Sage, Melon
Middle Notes: Jasmine, Clover, Lily
Base Notes: Sandalwood, Musk, Amber
*Spiced Sandalwood*
Top Notes: Citrus Peel, Magnolia Petal
Middle Notes: Violet Leaf, Golden Patchouli, Casablanca Lily
Base Notes: Oak Moss, Mysore Sandalwood, Crystallized Amber, Vetiver
*Sage Blossom*
Top Notes: Lime, Mint Leaves, Sage Leaves, Chamomile, Blue Leaf Eucalyptus
Middle Notes: Tea Rose, Hyacinth, Carnation, Muguet, Cyclamen
Base Notes: Cypress Woods, Musk
*Sweet Patchouli*
Top Notes: African Orange Flower, Caramel, Vanilla
Middle Notes: Patchouli, Spices
Base Notes: Musk, Sandalwood
Flat rate shipping $9.95 Australia wide